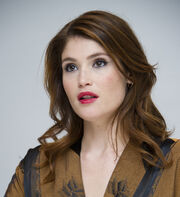 Goes by: Madam Aira
Role(s): First Year Flying Instructor and Quidditch Referee 
Description: Tall, willowy figure, with long brown hair, usually scooped back in a high ponytail. Wears tight fighting breeches and a loose shirt under a pair of navy robes. She has deep blues eyes and a small button nose.
Personality: Happy and bubbly, loves flying, and really loves teaching and is never too harsh on her students.
Quirks: Twirling hair round her finger and taps her foot a lot.
---copied from the roost character profile with minor changes to format