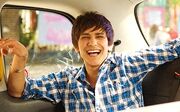 Avian Mirkwood

Born

August 8th, 1995

Died

January 13, 2011 (aged 16)

Cause of death

Car accident

Blood status

Squib
"His name was Avian. Means 'bird-like'. He wasn't bird-like at all though, but he was brilliant."
- Elavial Mirkwood (LoM: On the Same Wavelength)
Avian Mirkwood (August 8th, 1995 - January 13th, 2011) was the first child of Erik Mirkwood and Marya Mirkwood (nee Zare). Avian was known to be charismatic and an optimist. He attracted not only an abundance of friends and opportunities, but managed to get through hard times with style and good humour. At the age of nine, his little sister, Elavial was born. From that day on, he devoted his love and time to her and they were thick as thieves. It was known that he'd bring her everywhere he went and to amuse her he'd ask her to read his cards about twice a week. Unlike Elavial, Avian never showed any signs of magic, but was amazed and encouraged Elavial to practice when she started showing signs at the age of 6.
At the age of 16, a year after Elavial showing signs of magic, both he and his sister were heading back home from a small get together, with his friend Miles driving the car and a girl Avian had been interested in in the passenger seat. It was snowing and the roads were icy. Elavial had fallen asleep on his lap after a small discussion about her abusing her magic. Miles took a sharp turn, causing the tires of the car to skid on the icy road and topple the car over. Avian held onto his sister, shielding her from harms way, but costing him his life.